Regular Ways
Regular TOURS
Manipal, Udupi to Shringeri, Horanadu
Manipal & Udupi Taxi agents not only make your journey a good one but a memorable one.
From Udupi to Shringeri, distance is about 82km.
In Chickmagalur district, a hill town and Taluk Headquaters located in Shringeri or Sringeri in the state of Karnataka. It is located on the banks of river Tunga and a home to Historical temples.
Placesto visit by Manipal & Udupi Cab & Taxi Services:
Sharadamba Temple
Vidyashankara Temple
Sirimane Falls
Hanumanagundi Falls
Sri Malahanikareshwara Temple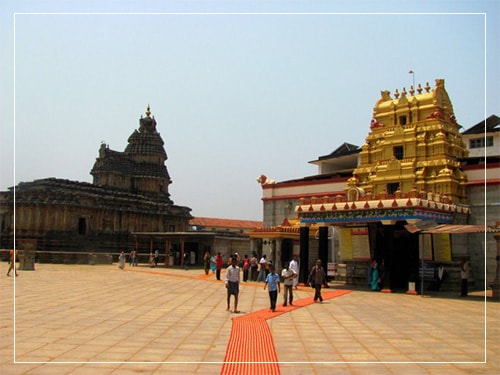 Horanadu
October to April is the Best time to visit to Hornadu.
Mangalore International Airport is the nearest airport located in Mangalore.
In chickmagalur district, a Hindu locale and a village panchayat is located in Horanadu. Aadishaktiyatmaka Annapoorneshwari temple is the famous one. Annapurneshwari, diety of Annapoorneshwari Temple in Horanadu. Irrespective of Caste, Religion, language or creed, each one of the visitor is provided with a 3 course veg meal. As a symbol of respect and humanity, every male visitor has to remove their banyan and shirt and cover their shoulders with a towel.
Every single day at 9:00 am, 1:30 pm and at 9:00 pm, Mahamangalarathi prayer will be offered.